Zampler es una estación de trabajo para sistemas Windows y MAC OS X totalmente gratuita, pero comparable en prestaciones a cualquier otros sistema similar que podamos encontrar en el mercado, se trata de un sampler con características tales como 3 LFO (osciladores de baja frecuencia), 3 filtros ADSR (Attack-Decay-Sustain-Release), Matriz de modulaciones complejas, secuenciador por pasos, sección de efectos, que ademas incluye diversas librerías de sonidos…en conjunto se trata de un sampler muy completo que sin duda se complementará a la perfección con nuestro secuenciador favorito, en el pack se incluye el sampler (Mac y Windows) y tres librerías, Digital Bass, Mininova y Demo SoundBank.
English
With the "Zampler" Beat brings a professional sample Workstation for Windows and OS X (32bit-64bit) on the market that can easily compete with the major players in the industry in terms of sound and features.
Zampler features
Sample oscillators with SFZ support.
Multimode filter.
three lfos.
three ADSR envelopes.
Complex modulation matrix.
Step sequencer.
Effect section with overdrive, equalizer, phaser, chorus, delay and reverb.
Free demo soundbank.
Additional soundsets available on the Beat magazine DVDs.
Zampler RX by Beat Magazine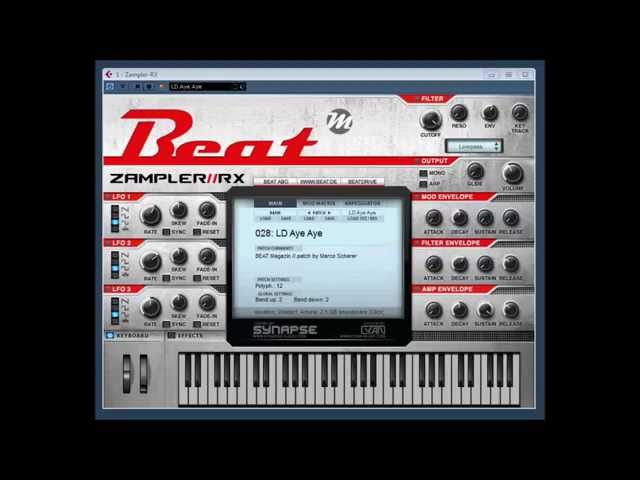 ZamplerRX and Sound Libraries – Windows-MAC OS