como en todo en esta vida, tenemos tendencia a dividirnos, el mundo del DJ no iba a ser menos y tenemos dos grandes grupos, los DJs analógicos (vinilo) y los DJs tecnológicos, ambas opciones son respetables, al fin y al cabo, es la pasión por la música lo que nos une…así, mientras vemos un resurgir de los giradiscos y el vinilo, la tecnología no se duerme y nos ofrece nuevas vías para explorar.
CDJ cada día mas complejos, controladores que parecen un ordenador y sistemas totalmente táctiles, como los que nos ofrecen Smithson Martin por ejemplo…pero también tenemos a nuestra disposición otros sistemas que, en principio, no están pensados para el DJ, pero tan solo necesitamos de algunos programas para montarnos un setup totalmente funcional…un ejemplo sería el del siguiente vídeo, combinando una HP Envy Rove y una HP Slate Pro, se ha configurado un sistema totalmente táctil.
2016 The Worlds First Full Size And Portable Touchscreen DJ Controller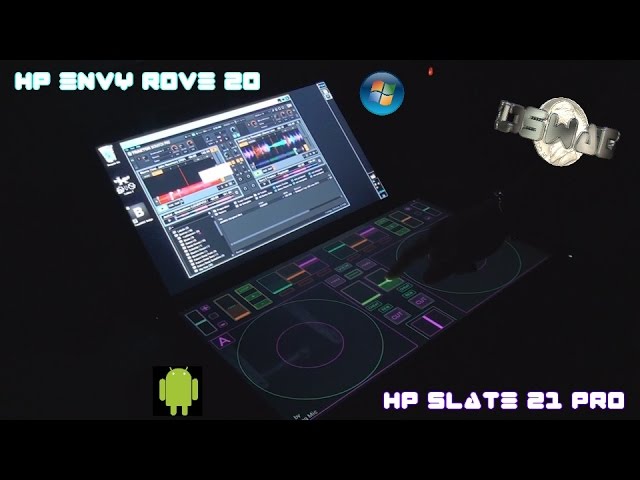 El sistema que se muestra en el vídeo, utiliza la Envy Rove con sistema Windows para ejecutar Traktor Pro y la Slate Pro, con sistema Android, para cargar una plantilla de Touch OSC desde la que manejamos Traktor Pro…bien, esto sería solo un ejemplo, como bien imaginareis, no necesitamos de algo tan costoso y aparatoso, podríamos utilizar cualquier tablet con Windows o iPAD y otra tablet con Android y Touch OSC y el resultado sería el mismo.
En el fondo esta configuración no deja de ser un apaño, es una lástima que propuestas como la Acer Iconia Dual Screen hayan quedado en el olvido, se trataba de un portátil con doble pantalla táctil, en el que hubiese sido muy sencillo configurar un sistema para  DJ todo en uno, ordenador y controlador, cada uno ejecutándose en una de las pantallas.
Acer ICONIA Doble Pantalla