HERCs Music Systems nos ofrece un par de plugins gratuitos, se trata de dos sintetizadores, el primero y mas destacado es Abakos, un sintetizador estilo analógico-digital que cuenta con 2 osciladores VCO, dos unidades ADSR, sección de filtros, mixer y LFO, Modulación en Anillo y generador de ruido, el sinte cuenta ademas con sección de "presets" que podemos cargar y almacenar…el siguiente plugin es Alien Artifact, un plugin pensado para crear sonidos de ambiente, los plugins se encuentran disponibles solo para la plataforma Windows 32 bits.
English
HERCs Music Systems has ceased all commercial operations. Our VST plugins will no longer be supported or sold. All formerly available freeware, Abakos and Alien Artifact, will remain available from this website for the foreseeable future and will remain as freeware. Abakos Pro will not be available as either a commercial product or as freeware for the foreseeable future.
Features:
2 VCO with 3 waveforms.
LFO with multiple waveforms.
2 ADSR for sound design.
Envelope Follow.
Onboard Delay, Tremolo, Vibrato and Wah Wah.
Noise Generator.
Ring Mod.
Digital / Analogue Filter Modes.
Internal preset management system.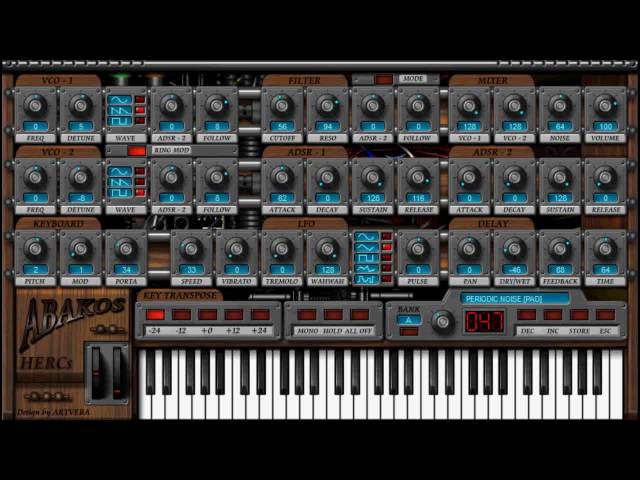 Free VSTs HERCs Music Systems – Windows