Desde AmpleSound nos ofrecen la versión "lite" de su plugin de guitarra acústica AGM, se trata de una versión con menos funciones que su hermano mayor, pero totalmente funcional y gratuita…el plugin incluye 866 samples (4062 la versión completa) y 4 efectos de pedal (9 la versión completa)…como veis, aunque limitado, el plugin es totalmente funcional y nos va a permitir crear acordes de guitarra que podremos usar en nuestras producciones.
La versión que nos interesa se encuentra al final de las descargas, AGM Lite(Free), tenemos disponible tanto versiones para Windows como MAC OS, ademas, después de las descargas de plugins, tenemos unas cuantas librerías de sonidos que podremos descargar, muchas de ellas compatibles con este plugin, todas las que indique "AGM" y tengan el icono de descarga en verde.
English
AGML is the lite version of AGM, recorded on the Martin D-41 acoustic guitar, Natural sustain and resonating sounds of the guitar are unadulterated. As one of the largest free virtual instruments, AGML provides most useful features of AGM with 682MB samples to satisfy accompaniment in pop music.
Sampling:
DFD(Direct from disk)
Controllable Resonance Sound
Rich Fingering Noise – more vivid and realistic
Original Total Start Time which makes the picked instrument sounds more natural
Each Cycle & Rhombic Sampling structure – Separate sample cycle for each note and vel layer to improve sample utilization
Technology:
Support AU(X64 X86), VST(MAC), VST(Windows X64 X86), RTAS
Doubling Guitars – different samples at L & R
CPS(Customized Parameters Setting), any button knob etc can be controlled by MIDI CC or Automation
Manual vibrato wheel designed specifically for guitars
Doubling Keyswitches – combine 2 techniques via pressing 2 keyswitches at the same time
Poly Repeater
Open String First Function
Ample Guitar M Liteで遊んでみた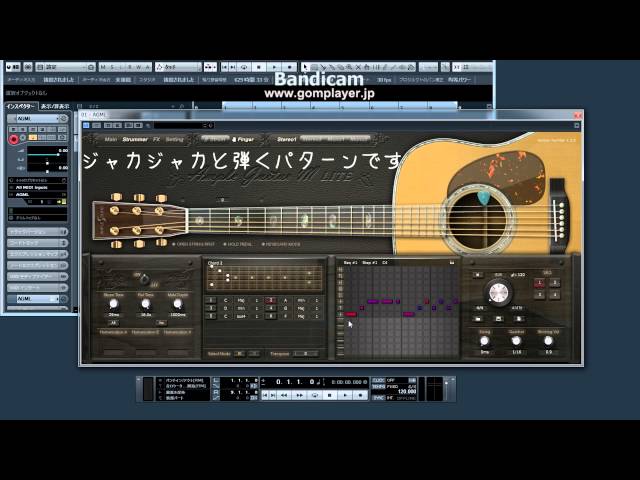 Amplesound – Ample Guitar M Lite II