Plogue es el desarrollador  del programa y plugin Alter Ego, este es u programa que nos permite crear y modificar voces…tenemos diferentes packs, muchos de ellos son de pago, pero otros los podremos descargar de forma gratuita, este es el caso de Daisy, una voz de mujer que nos permite escribir el texto y generar voces, ademas de modificarla de distintas formas…el programa funciona tanto en modo "Standalone" como en forma de plugin VST, tanto para Windows como MAC OS.
Alter Ego Daisy es totalmente gratuito, no así el plugin ChipSpeech, en el que está basado (96€), de todas formas es totalmente funcional, eso si, como curiosidad, el texto que admite por el momento solo es el Japones e Ingles, así que si escribimos en Español, el resultado puede ser un tanto extraño…de todas formas es un plugin perfecto para crear voces robóticas y modificarlas a nuestro antojo….por cierto, a los que entendéis Inglés, atentos a la letra de la canción del primer video 😉
English
Alter/Ego is based on the award winning technology featured in chipspeech but instead of targeting Vintage voice technology, it focuses on more 'modern' (1990+) singing synthesis algorithms and research.It is specially tailored for musical needs – simply type in your lyrics, and then play on your MIDI keyboard. It's a true synthesizer, the sound can be extensively modified for easy and expressive performances. And more importantly it is FREE!…Voice banks come in various styles and licenses. Daisy is the first bank available and is also FREE.
Plogue Alter Ego (Daisy Patch) Demo
Recreating vocal tracks in Ableton Live with chipspeech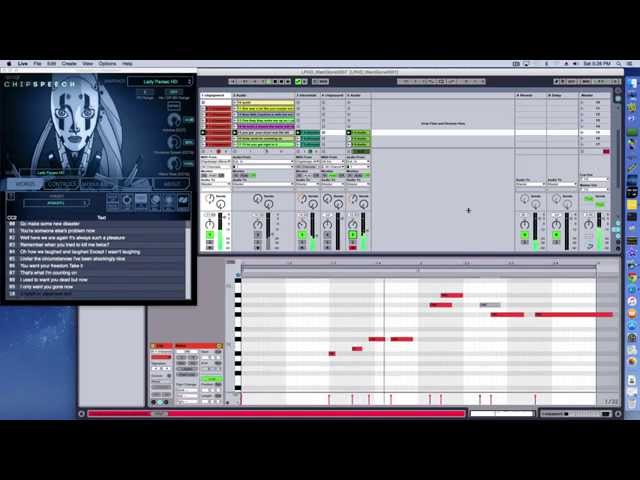 Plogue – Alter Ego Vocal VST – Windows-MAC