De IK Multimedia ya hemos publicado con anterioridad, supongo que muchos de vosotros conoceréis el plugin Sample Tank, otra de sus fantásticas herramientas totalmente gratuitas…hoy es el turno de T-RakS, un conjunto de utilidades ampliable…el pack básico es totalmente gratuito, incluyendo utilidades de medición y ecualización, T-RackS nos permite "apilar" hasta 12 procesos, pudiendo comprar desde la misma aplicación nuevos módulos, de esta forma se convierte es una suite perfecta para masterización.
Para descargar, tan solo tendremos que registrarnos en la página de IK Multimedia, de esta forma podremos acceder a todas las utilidades gratuitas (Sample Tank, T-RackS y Amplitube), al registrarnos y descargar, se nos asignan números de serie para cada uno de los plugins, con lo cual tendremos tres magnificas aplicaciones totalmente registradas….los plugins se encuentran disponibles tanto para Windows como MAC OS en 32 y 64 bits.
English
T-RackS 3 is a modular mastering/mixing suite of nine analog-modeled and digital dynamics and EQ processors. It provides all the tools you need to create tube-toned or digital-tuned mixes and masters.
Features:
Free version of T-RackS including the Custom Shop, Classic T-RackS Equalizer and Metering Suite
Custom Shop functionality lets you purchase additional modules from inside the program
T-RackS shell allows for chaining of up to 12 processors
Complete integration with the AmpliTube Custom Shop
Standalone integration with ARC System 2 processing
All processors available as individual plug-ins
64-bit native support
32-bit 192 kHz support
High-fidelity oversampling for high-quality audio processing through the entire signal path
SCC™ technology coupled with IK's unique DSM™ technology provides the most realistic software emulation of vintage gear to date
Extremely easy to use, with style-based presets, full chain visualization, one-click single module or chain bypass, "compare" function and more
IK Multimedia T-Racks 3 Standard – Basic Overview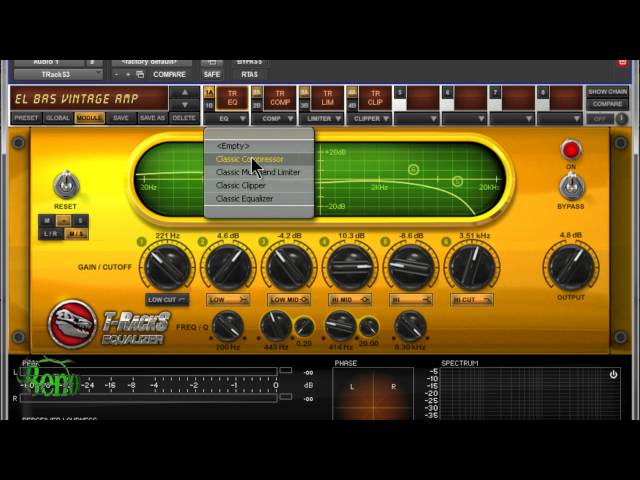 Free VST IK Multimedia – T-RackS