DrumTroop es, como su nombre indica, un instrumento VST orientado a la creación de ritmos, se trata de una GrooveBox que nos ofrecen de forma gratuita, ademas de ser totalmente funcional, las ganancias están en los packs adicionales que podemos comprar para añadir nuevos sonidos a la máquina…la GrooveBox cuenta con 16 salidas que podemos rutear, así, pese a carecer de filtros nativos, podemos añadirlos fácilmente haciendo pasar el audio por el plugin de efectos que deseemos…el pluguin se encuentra disponible tanto para Windows como MAC OS, en versiones 32 y 64bits.
English
DrumTROOP is just that – A straight out of the box weapon of mass production – No fussing around with too many on board options (though some options are there)… These Kits have been meticulously crafted into their respective genre/sub-genre, then laid out in an intuitive low cpu hit drum machine/key station. We do give you the .wav files on most expansions too though so if you do want to import into your existing samplers you're good to go.
We utilize all 128 keys or 10 octaves in each kit.
16 outputs – one for each pad and the last three divide the keys into three spannable sections on our main template (you get three different setups which I'll get into in a minute).
Your daw takes control of fx/parameters per output/sound vs having onboard bloatware.
We give you quick fine tuning controls, pitch, poly, legato, mono, and each pad comes with quick on-board volume, pan, attack, and release treatments.
Also comes with a quick LFO tool to help shape or pan some of your sounds.
DrumTROOP WalkThrough – Free 16x Drum Machine VSTi/AU – DUBturbo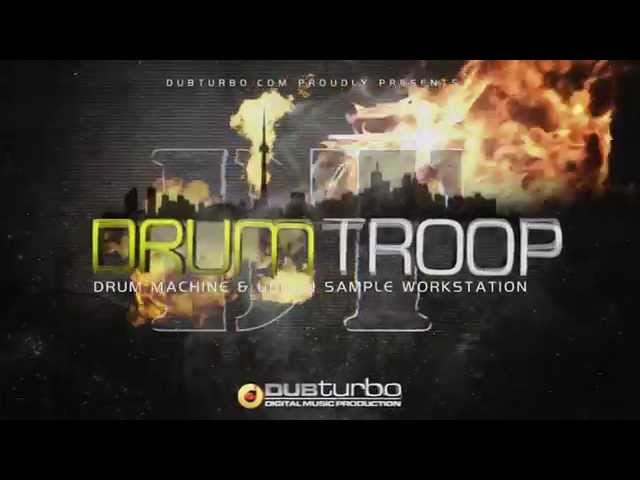 Free VST GrooveBox DrumTroop – Windows-MAC