Syntmaster Player es el hermano pequeño de Synthmaster, el sintetizador modular y unidad de efectos de la casa KV331, se trata de una versión reducida pero totalmente funcional, cuenta con menos opciones de edición y creación de sonidos y se centra mas en el manejo de "presets", junto con Synthmaster player se incluyen una serie de librerías con las que empezar a trabajar…el plugin se encuentra tanto en versiones 32 y 64 bits para las plataformas Windows y MAC OS.
No os perdáis el vídeo del final, donde podemos ver la impresionante cantidad de sonidos que se incluyen con SynthMaster Player, son mas de 1.100 sonidos, que podemos ampliar mediante librerías de presets.
English
SynthMaster Player is a simplied version of SynthMaster with limited editing capabilities. It is targeted towards users who prefer to use presets rather than designing their own sounds. It comes with 1100 factory presets. Users can edit the 12 easy parameters or the bypass states of layer/global effects assigned for each preset by the sound designer.
Features
Cross-platform VST, AU and AAX
1100 Factory Presets
Semi-Modular Architecture
Massive Modulation Architecture
Easy Parameters
Powerful Arpeggiator
Basic Oscillators
Additive Oscillators
Vector Oscillators
Wavetable Oscillators
Stereo Oscillators with Unison/Voice Stacking
Demo: SynthMaster Player from kv331 Audio – SoundsAndGear.com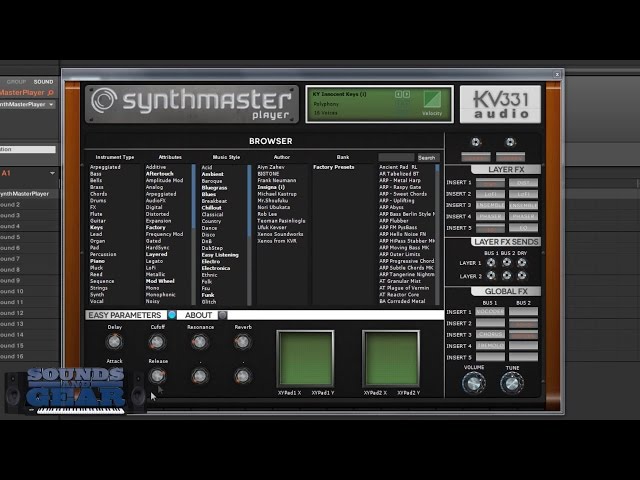 Free VST-AU Synthmaster Player Win-MAC