JC Productionz es un desarrollador que nos ofrece algunos de sus plugins VST de forma totalmente gratuita, entre sus creaciones podemos encontrar sintetizadores como RHEC, este es un sintetizador de estilo analógico, cuenta con 2 osciladores, filtro estilo Moog, ADSR, filtros, LFO, control de velocidad, capacidad MIDI y muchas opciones mas, ademas contamos con el modulo de efectos RHECfx, el cual nos proporciona stereo delay y chorus…junto con este sintetizador, en su página web vamos a encontrar otras utilidades e instrumentos gratuitos.
English
RHEC has a very analog sound with enough bite to cut through a dense mix, there's enough features packed into this synth to keep you twiddling for hours, and the delay effects really enhance the whole experience encompassing you in a wide stereo field. From analog brasses to phat basses and leads, all the way to wild effects.

RHEC has 2 oscillators, moog filter, ADSR, filter contour, midi learn, LFO, random gate, keyboard tracking, velocity control & more.The effects section features a delay unit and chorus, the delay unit includes stereo panning control, L/R volume controls, internal/host sync & filtering. The chorus is highly customizable with wet/dry, 3 LFOs, pre – delays, width control & more.
Bender range selection, up to an octave
Lower Cpu usage
New stereo delay Fx with host sync, filtering, panning, dry/wet & level controls
Midi learn
Master level now has dbfs readout
Global section rearranged
The overall look has been slightly tweaked
Midi CCs reassigned and working
Presets have been enhanced
RHEC version 2 6 by JC Productionz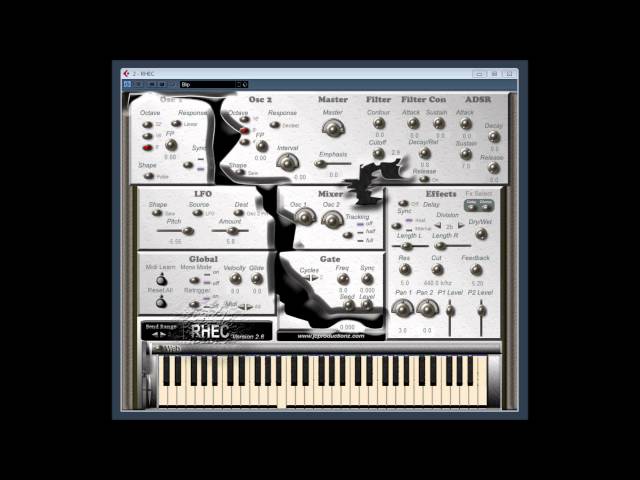 JC Productionz Free VST