Hace unos días les mostraba otro VST gratuito de Tek'it Audio, se trataba de un plugin diseñado específicamente para cortes de frecuencia, hoy es el turno de otro de sus VST gratuitos, en esta ocasión Genobazz 2, un VST pensado para la creación de líneas de bajo, bombos y sonidos tipo "Acid".

English
Genobazz 2 is a free monophonic bass synthesizer plug-in, designed to be simple to use, for all your bass need, from simple bass, drum kick and complex wobble to acid bassline.

Feature highlights
14 Waveforms and 12 Filters.
Multi-Segment Envelope on each rotary controllers.
Envelope loop and BPM sync.
2 Waveforms modulation types.
Velocity amount control on 7 parameters.
Sub amplification boost.
Full MIDI automation support.
Easy MIDI learn on all parameters.
Use 7-bit MIDI Continuous Controller or High resolution 14-bit MIDI NRPN and RPN.
Selectable Maximum MIDI pitch bend range.
Four note playback priority mode.
Selectable envelope re-trigger mode.
Preset manager, rename, copy, save, load…
Undo your changes to initial preset value.
One click randomize all parameters.
96 Factory sound presets.
Up to 128 user presets per bank.
Comes with a user manual.
Easy installer.
Genobazz 2 – Bass Vst Plugin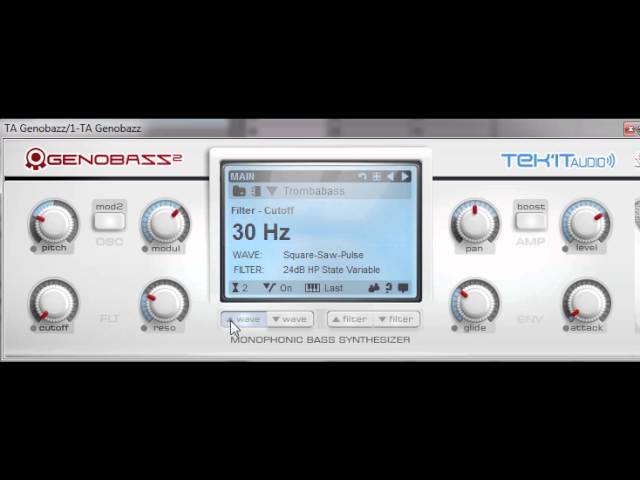 Free VST – Tekit Audio Genobazz 2 – Windows Only