Una puerta rítmica (también conocido como puerta de secuenciado o puerta trance) es un tipo de efecto de modulación que deja pasar o silencia el audio entrante siguiendo una secuencia pre-programada. Puertas rítmica se utilizan a menudo como efectos creativos (en oposición a puertas de ruido que son una herramienta de mezcla común), capaces de convertir sonidos estáticos como los pads emocionantes secuencias rítmicas…el plugin se encuentra disponible en versiones Windows y MAC tanto en 32 como 64 bits.
Junto al plugin TriggerGate, tambien vamos a encontrar otra herramienta de gran utilidad, Stereocontrol, un VST orientado a la manipulación de la señal Setereo, permitiéndonos expandir o limitar dicha señal en nuestras pistas o canciones.
English
A rhythmic gate (also known as sequenced gate or trance gate) is a type of modulation effect which passes or mutes incoming audio following a pre-programmed sequence. Rhythmic gates are often used as creative effects (as opposed to noise gates which are a common mixing tool), capable of turning static sounds like pads and drones into exciting rhythmic sequences. Rhythmic gates were originally used in genres like trance and techno, however nowadays we can hear the classic "trance gate" effect in many different music styles like trap, dubstep, house, even modern pop hits.
With my A1StereoControl plugin you will be able to expand or limit the STEREO WIDTH of your tracks using only one single knob. This powerful technique can be used on single tracks or groups tracks while mixing or even on a master bus in final mastering situations.
A1TRIGGERGATE BY ALEX HILTON VIDEO 2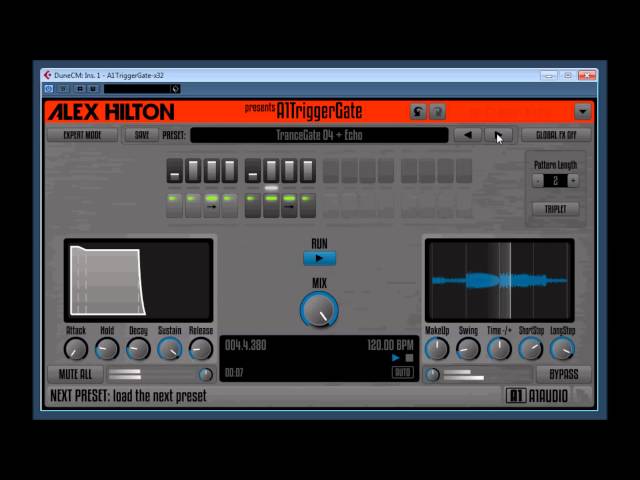 Free Rhythmic VST A1TriggerGate