VST Zone, Amplio, U.F.O, Free Plugins…VST Zone son unos desarrolladores que nos ofrecen tres estupendos plugins VST de forma totalmente gratuita, empezamos con Amplio, se trata de un ecualizador de 3 bandas con bandas ajustables y módulos de efectos multibanda adicionales. El plug-in está diseñado originalmente para mejorar los patrones de batería, pero es lo suficientemente potente como para ser utilizado en cualquier tipo de sonido…cuenta ademas con un efecto Reverb  que se puede enrutar a alguna de las tres bandas va a añadir más espacio para mezclar y Soft Limiter evitará cualquier recorte en la producción final.
Continuamos con U.F.O, UFO Zone Edition es una actualización de la versión del original de plugin de UFO con algunas actualizaciones, mejoras y correcciones. Es un sintetizador sustractivo con tres osciladores. Dos de ellos tienen filtro mutuo, en el que la frecuencia de los osciladores es modulada por dos osciladores de baja frecuencia. En tercer oscilador tiene filtro independiente, en el que la frecuencia es modulada por tres LFO, dos de los cuales son gráfica. Sonido final se ajusta mediante el kit de efectos (delay, chorus, reverb), que se aplica para cada grupo de osciladores separados.
English
VST Zone is a side project maintained by just three good old friends. We keep going on with the development of a VSTi freeware and many other VST related software. VST Zone is our very own free variant of a similar but paid software. Being just something we want to share with the community, we are relying on the kindness of other people – especially you, our users. If you find our work meaningful and you would like to speed up our development and keep us going on, please donate to us through PayPal. If you would like to contribute in any other way, don't hesitate to drop us a line. Even a small donation helps us to keep our idea alive and to propel it into the future!
Amplio & U.F.O. Zone edition VSTi audio demo 2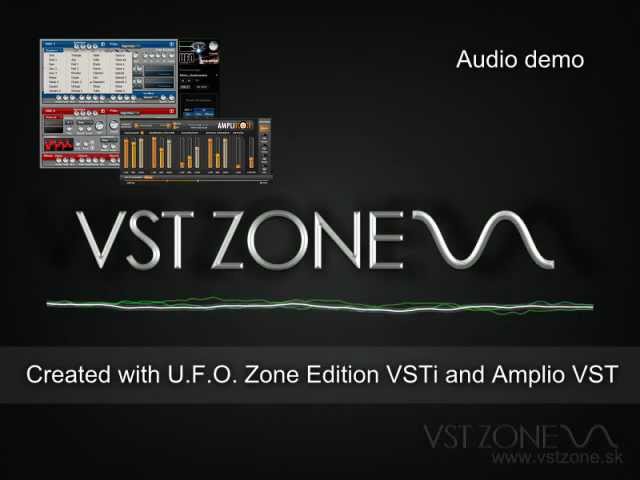 VST Zone, Amplio, U.F.O, Free Plugins